Round the Mountain (Egmont/Taranaki) Cycle Challenge
New Zealand

January 27th 2007


Having moved out to New Zealand from England for a while, for a variety of reasons we settled in Taranaki - the west coast of the North Island of New Zealand. It's widely regarded that New Zealand is a place where 'outdoors' is your playground, so I began to explore.

Shortly after we arrived we discovered that Taranaki has quite a lot happening, from Triathlons to tarmac car rallies (not to mention climbing the 2518m mountain) and then I discovered that there was a 'round the mountain' cycle challenge (or race if you were professional and/or mad) and I fancied giving it a go - just to see if I could actually do the 157 km (98 miles). After all, I'd managed the London Marathon in 1998 and I hadn't even trained for it (read my account here) so how hard could this be?

I had brought my bike with me from the UK, not because I am an avid cyclist, but because I was too stingy to give it to anyone else. In fact, since I obtained the bike in 2003 I'd ridden less than 16 Km (10 miles) the entire time; cars are easier and less sweaty and motorbikes are waaaay more fun. And the only reason I had the bike was because it had been in a rubbish skip for days and no one else had taken it - so I became the accidental owner of a Giant X-500 mountain bike. Apparently this is a good mountain bike, but to my Neanderthal understanding of bicycles it might as well have been made of cheese.

So the bike sat in my New Zealand garage for over a year. I did clean it once and also fixed the gears - I only had 7 of them and apparently it should have had 21 so I bought a new gear changing thingy from the interweb and fitted it. Riding up and down my driveway (100 metres), it seemed to work…so it went back into the garage for a rest.

Gradually January approached and the advertising for the Round the Mountain race became a bit more prominent. I remembered that I had a bike in the garage and that I had wondered last year about entering the challenge. It wasn't that expensive so I made up my mind to enter…I'd think about actually training for it later. And then Chris 'phoned.

Chris likes the same things I do - Lotus cars (we met driving his Esprit and my Eclat on a mad 100 mile sprint up the UK's M1), wine and food in good company and he was taking a break from work to visit us and train for three months to compete in the Ironman Triathlon in Taupo in March. I suggested he could also do the Round the Mountain race as part of his training - and so it was agreed: we'd enter together, the bloke who got a bike out of a skip and the triathlete with the lightweight carbon fibre specialist machine.

Oh dear.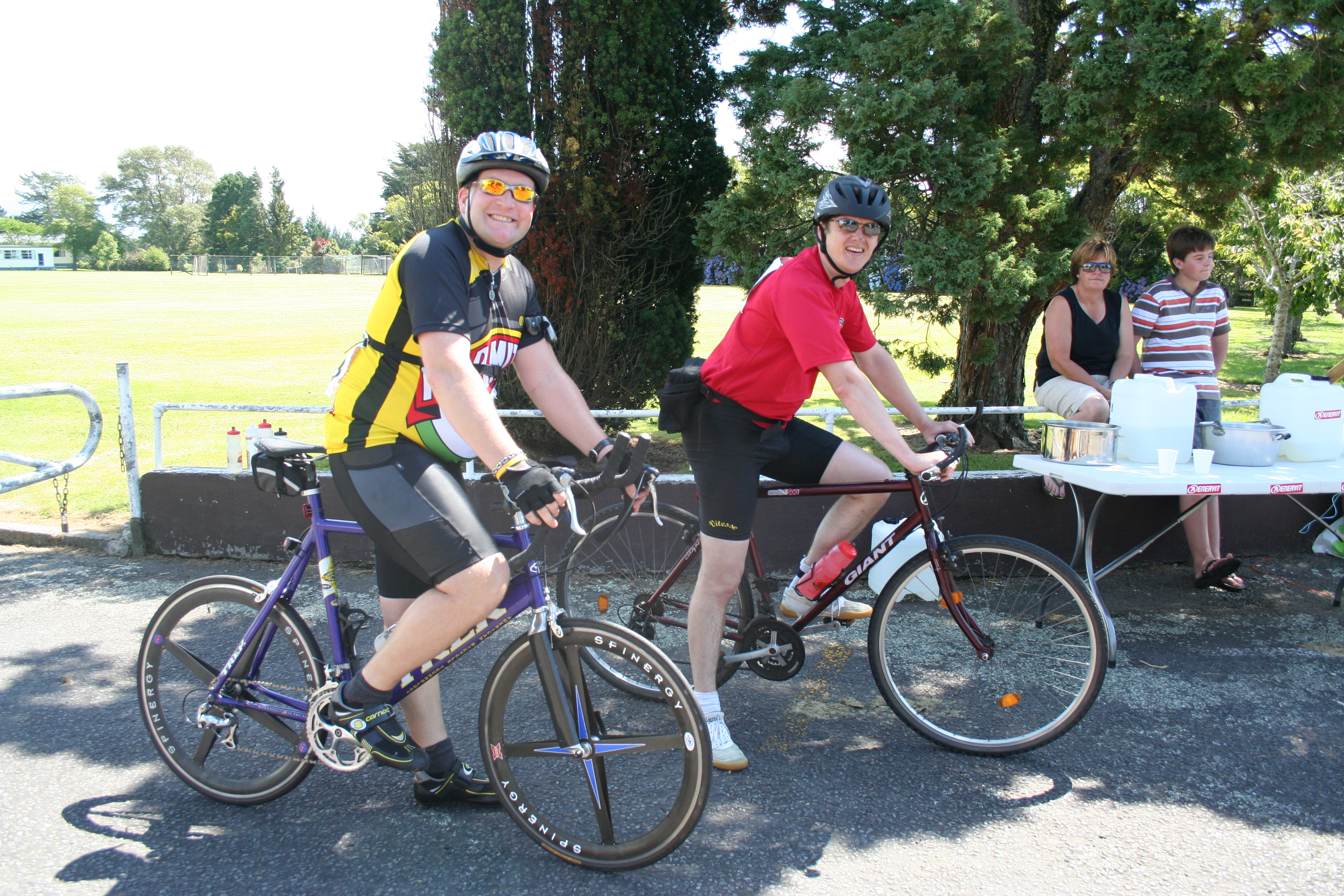 The triathlete is NOT the one on the right!

Chris had a personal trainer in the UK who e-mailed training schedules and dietary instructions to prepare for his Ironman. This basically consisted of eating, training or sleeping and each day he'd disappear for hours at a time to swim, cycle and run horrendous distances, coming back drenched in sweat and looking knackered. He'd then eat enough pasta to feed a small third world country and sleep the sleep of the dead, getting up the next day to do it all again. I, on the other hand, had fry up for breakfast, a beer at night and occasionally ran to the loo. I did look up the training schedule for the cycle challenge - there were two of them, one a 14 week and one an 8 week schedule. Mondays and Fridays were days off and I could do them fine. The carb loading bit didn't go too badly either - and I'd bought a pair of cycle shorts in Taupo (we'd been to see the A1 Grand Prix) as Chris said I'd need them. As for actually getting on the bike…

I think Chris gave up inviting me out for a ride, until two days before the event when he was a little more insistent that I at least find out the bike worked and the saddle was the correct height. So on the Thursday before the event I put my cycle shorts on for the first time (you don't wear pants under them?!) and rode out from home. I have to say that I was a little nervous as to what Chris would think of me, but I managed not to wobble too much and we rode 20 minutes at an average of 26 Km an hour. Could I do that for 157 Km? Who knows, but I didn't feel too bad - except for my backside. Why on earth do they make saddles like that?

A trip to the cycle shop was next and under Chris's instructions I bought a spare inner tube, some energy gels (more of which later), a drinks holder for the bike and a drinks bottle. (I have to say I am indebted to Chris for all his advice on nutrition and hydration). I was a little reticent when they asked me what my normal regime was and how much I'd trained. I think I managed to mumble something incoherent and words to the effect that I'd not practised race nutrition very well recently. Or at all in fact.

Then it was on to registration for the event - lots of shiny bikes, tight fitting shorts and tops (are cyclists also closet fetishists?) and free promotional stuff. I strutted round pretending to know what I was looking at and taking all the free stickers and wondered exactly how smug I would be feeling at the end of tomorrow. Come Hell or high water I was going to finish or die/break trying - too many people knew I was doing this now and there was even a sweepstake at work as to where I'd conk out and give up. I picked up my registration pack: Mark Belchamber, number 1447. No going back now.

In the evening we got everything ready, sorted out the drinks and energy gels, loaded the bikes and went to bed early. Chris had GPS, monitors, a flash watch calibrated to laps and averages…I had a new drinks bottle, a spare inner tube and no tyre levers.

I had suggested getting riotously drunk, not going to bed and then doing the race as an extra challenge (and I could use that as an excuse for not finishing) but for some reason this was not met with overwhelming enthusiasm. Somewhat worryingly I seemed to be going to the toilet every 15 minutes with stomach ache and not producing much, but I put this down to nerves.

Race day. I put on my cycle shorts, official t-shirt, collected my sunglasses and matt black helmet - at least I looked like I knew what I was doing! I had a bowl of Milo (chocolate cereal) because apparently it is a good slow release carbohydrate food and went to the car, bent over to check the bikes…and felt a snap in my lower left back, accompanied by quite a lot of pain. This was Not A Good Thing.

I limped back into the house and took an anti inflammatory and tried not to show too much pain to Chris or my wife (who was already unhappy that I was doing the race without training). I knew I'd strained something but there was NO WAY I was going to cry off the event. I tried to stretch out in the car and before the ride - but it still hurt. Hopefully the pain in my legs/backside/somewhere else would take my mind off it on the ride.

This is how they describe the course:

Leg 1 New Plymouth to Okato is hilly - 27km

Leg 2 Okato to Opunake is undulating - 35km

Leg 3 Opunake to Kaponga undulating and climbing - 26km

Leg 4 Kaponga to Eltham undulating - 12km

Leg 5 Eltham to Stratford is a gradual climb - 12km

Leg 6 Stratford to Inglewood relatively easy ride to Inglewood after 120km mark - 21 km

Leg 7 Inglewood to New Plymouth is a relatively easy ride with two hills prior to entering New Plymouth - 17km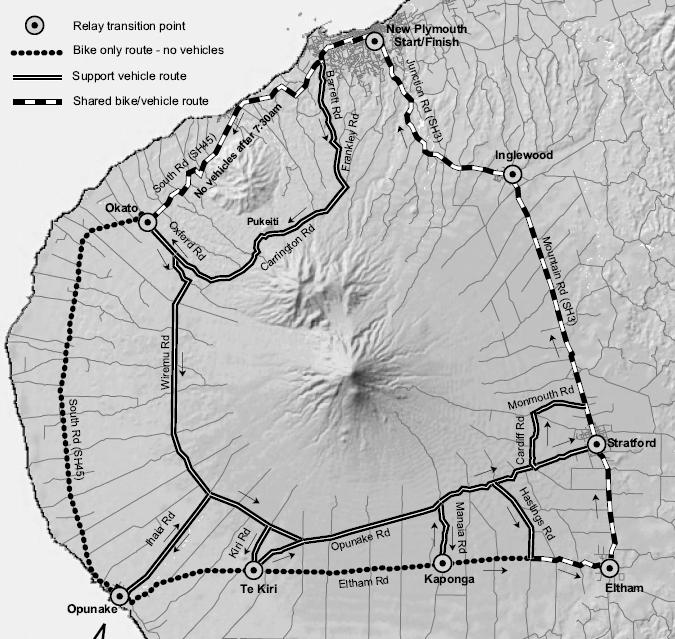 As we approached the start\finish line the sun shone brightly and I felt excited and a bit apprehensive. Loads of tight-fitting clothes on cyclists with bikes of all types adorned the start/finish straight and I looked for the 6 hours+ time slot to join. Chris met another triathlete who's completed about 7 events and who was doing this as a 'fun ride'. I tried to look prepared and ready, but probably just looked slightly constipated.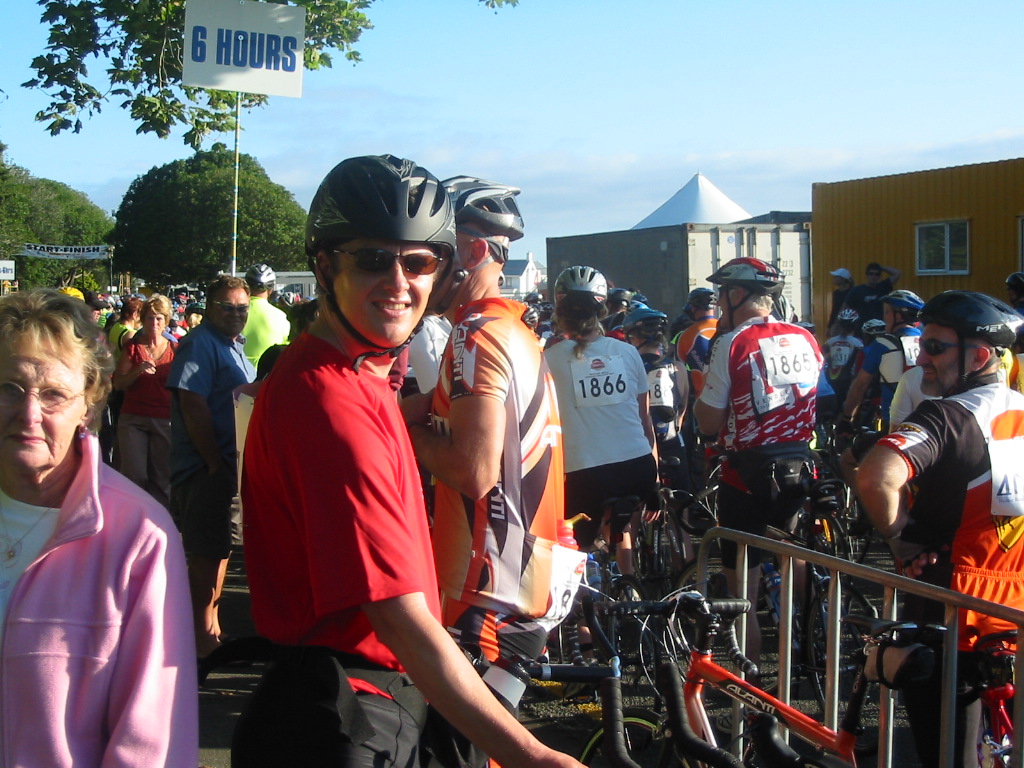 Yup, definitely looking constipated (although that lady does too!)

One minute of silence was held for a cyclist who died in the event last year and then the gun went off. The quicker cyclists set off and as they made room for the rest of us we walked forward to the start line. After a few minutes it was our turn; Chris and I wished each other luck and, very tentatively at first, I led us onto the course. I wondered what Chris really thought of my chances of finishing.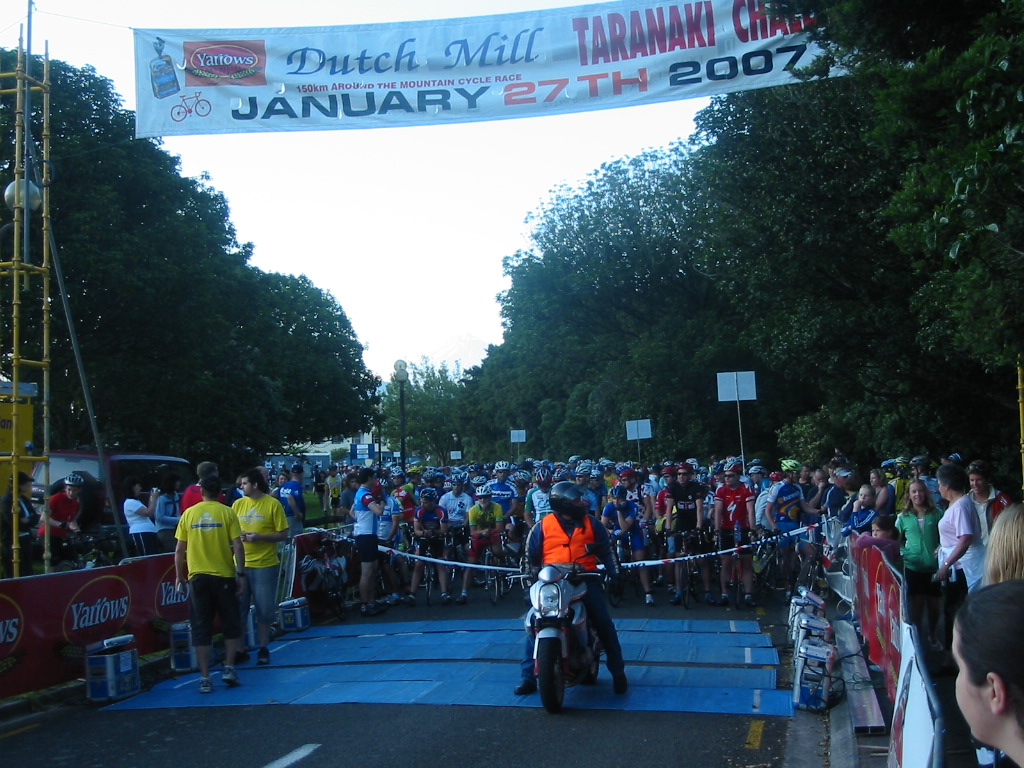 Strangely, a lot of bets were being placed on the bloke in the helmet…

I'd never cycled in a pack before and it was very odd - I decided to stick to my line on the left and allow everyone else to do whatever they wanted around me. This seemed to work until I became a bit more confident and we worked out a pace and stuck to it. The first section said "New Plymouth to Okato - hilly" and I knew the road, having driven it several times before. I made up my mind to drink regularly (even if I didn't want to - apparently once you're thirsty it's too late) and to ride at a pace where the bike did most of the work. I appeared to be fortunate as the ratios between the gears were very narrow and switching between one gear and another didn't affect my work rate significantly but did help with progress. Perhaps this is how mountain bikes are designed. It took me a while to work out which lever increased the gears and which decreased them - I kept going up hills in 7th and down in 1st, until I realised that the switches on the top of the handlebars change up and those on the bottom changed down. Feeling slightly smug that I'd worked this out, I attempted to change gears and…nothing. The lever just flapped around loosely. Hmm. This could present a problem.

As I rode along I passed various cyclists at the side of the road who were looking at their bikes, some of them on mobile 'phones to their support vehicles. Some of them looked forlornly at what appeared to be a terminal problem and some were just getting on with fixing punctures which Chris said often occurred when the bike hadn't been used for a while - which worried me slightly. One guy had a spectacularly loud rear tyre blow out right in front of me and veered into the greenery somewhere to my left…I did feel a bit sorry (and guilty!) for those that had (presumably) put a lot of work and training into the event, only to be scuppered by a failing machine. I likened it to qualifying in an F1 race and then crashing at the first corner.

Chris's bike had different gear ratios and with his far superior training he was able power up hills much more quickly than I could; he was therefore about 500 metres away. The progress I was making downhill now was poorer as I couldn't get the speed up to free wheel as quickly and Chris gradually got further away. I reckoned there were another 15 Km (9.5 miles) to go before the first transition point where Chris would wait for me so I kept going, hoping that the other gears wouldn't fail and that those behind me wouldn't laugh too much at my little legs furiously peddling away in what was effectively a low gear in a vain attempt to get up to double figure speeds.

Sure enough, at Okato Chris had stopped and I explained my problem. We turned the bike upside down and my lower back swore at me while my leg muscles wobbled around from the exercise to which they were now subjected after years of lethargy. The official course support vehicle also stopped and, thankfully, it turned out to be a loose screw causing the gear changer to fail to engage. A couple of turns of a screwdriver returned my full compliment of 21 gears and we were off again. I was pleased that the GPS said we had averaged over 21 Kmh, despite my mechanical failure and I felt surprisingly well…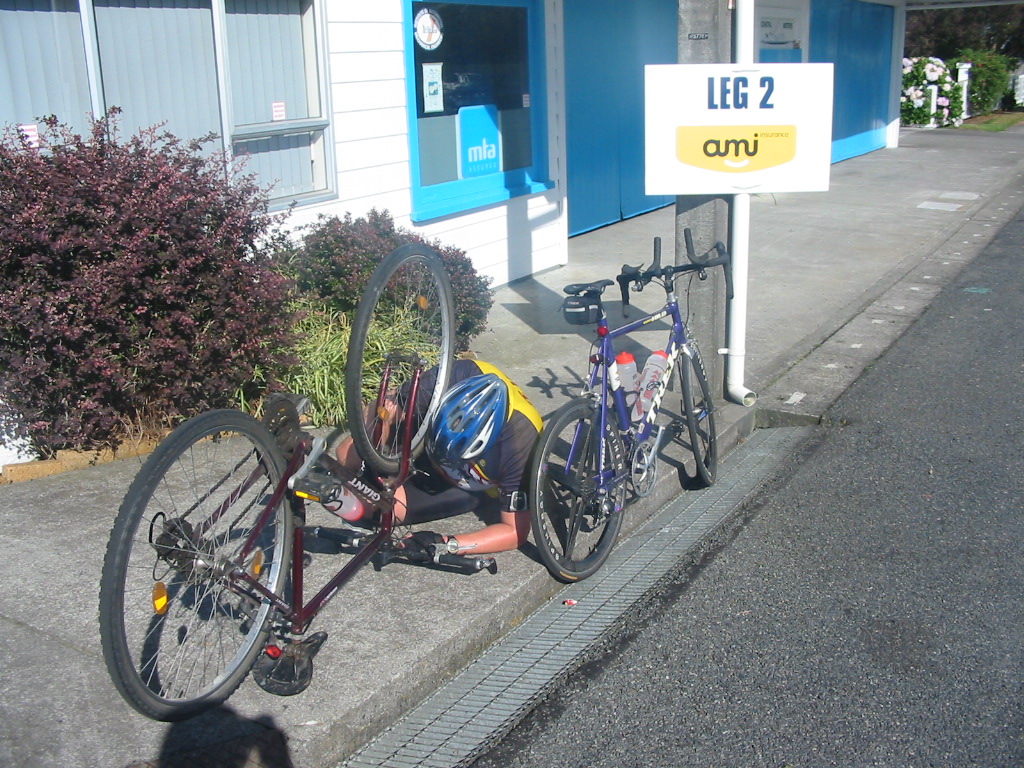 …until half way to Opunake. All of a sudden I felt as if had been rodgered by a particularly rampant herd of bulls and no amount of moving seating position changed that. Pedalling only pushed my bum harder into the seat and the only relief was standing slightly in the seat when coasting down hill. Why DO they make bicycle seats like this? I struggled, winced and fidgeted my way to the next transition and was surprised to see that our average speed had gone up to over 22 Kmh, despite my gluteal aberrations.

Then I saw Donna, who at that point was an angel in the distance. Donna is a Taranaki Ambulance volunteer and also a St John's Ambulance volunteer - and today she was manning the St John's vehicle. I knew that she would have a number of bulky dressings and some tape in her ambulance and she saw me approaching. Her first encouragement to me was "You look knackered, absolutely knackered" which I felt was a little harsh, but probably was a fair reflection of the way my nether regions were coping. She only made me grovel a little bit before she gave me 3 trauma dressings (bulky bandages) and some Micropore (tape) and my saddle instantly moved from a weapon of torture to a source of mild irritation. Amazingly we still averaged over 22 Kmh/13 MPH and after a short energy drink stop, we were under way again.

I felt much better after the short stop and although the section is a continuous uphill climb, it is fairly gentle and achievable if you take it steadily. Time for an energy gel, I thought. Ah yes, energy gels.

I'm sure the description of these products is technically accurate, however that's like saying Beethoven could write sheet music. Technically, yes - but it leaves so much unsaid, and with energy gels it's what's unsaid that is so dishonest. I had bought berry flavour and coffee flavour - with the not unreasonable expectation that at least a hint of some kind of vitamin C juice or caffeine might enhance the taste of what I expected to be a sweet liquid. How wrong I was.

I flipped up the lid and knew from the instructions that I had to ingest the small tube over a period of 2 hours, a couple of squirts at a time, so I squeezed twice and wondered if I'd accidentally picked up the 'super sweetened ammonia' flavour. A liquid with the consistency of syrup and a combination of the taste of ultra sweet sugar and old silage filled my mouth and almost welded the back of my throat shut. In addition I could feel my teeth instantaneously rotting in protest and I shuddered at the thought of having to eat this stuff for the next two hours. Both the berry and coffee flavours were equally revolting - and I also discovered that they effectively doubled as an adhesive when I spilled some on my hands, then smearing what might as well have been treacle on the handle grips.

I did feel that an honest supplier would not have attempted to pretend that these things actually had any flavour and would have included a half price dental voucher as recompense - however sadly I was stuck with berry and caffeine glue substitutes. Still, if I got a puncture they could probably have doubled as repair kit adhesive.

At Te Kiri I ditched the gels and loaded up with more energy drinks, discovered that we were still averaging a reasonable Kmh and that the next section to Kaponga was fairly straight. The ride was enjoyable and fairly uneventful and we again averaged nearly 24 Kmh/15 MPH. To my mind I only had to get to Eltham and I was on the way home - as it was it was already further to return than to continue to the finish, and that is always a good feeling!

Eltham approached, but it had a bit of sting in the tail. It was predominantly a straight section which was actually quite pleasant; my backside was OK, the energy gels had been ditched, I wasn't working too hard, my legs were OK and our average time was good, but before I enjoyed it too much a beast of a hill appeared out of nowhere and I went from 25 Kmh to about 7 Kmh on a stretch of road that I swear wasn't there the last time I was on it. Chris (obviously) powered up it, but I grunted and strained with all the elegance of an irritated rhinoceros to the top, where Chris was waiting for me and we rode over the crest and cruised downhill. Mentally I felt great - Eltham was my milestone, I was on the home straight now.

Heading out of Eltham, having averaged nearly 25 Kmh/15.5 MPH something happened to me and I still don't know what it was. I was happy to be going home, I had rehydrated and eaten, we had had a short rest - but I suddenly lacked the energy I had had until now. Each pedal of the wheel was hard work - in any gear. We only had 11 Km (7 miles) to the next transition point, but it was a hard fought 11 Km and while Chris seemed to be almost freewheeling I seemed to be working, even downhill. Even at the transition stage I didn't feel any better and the only good thing in my opinion was that Stratford wasn't far away either. At Stratford the feeling continued, but this time it was compounded by a headwind which meant that going downhill wasn't very efficient because I was being my own wind resistance. At least motorbikes have fairings to deflect the wind!

I did have a wake up call though: ahead of me I saw a guy on a unicycle and as I got closer to him, I noticed he was wearing a race number. Here was I, feeling sorry for myself and this chap (who I later discovered had started an hour earlier than me because his unicycle only had one gear and the pedals are always engaged so he couldn't free wheel) was cheerily saying hello to everyone who passed him. Man, I hoped he made it all the way - I admired his guts.

Gradually we approached Inglewood - the last transition point and only 20 Km (12.43 miles) from the finish. I slogged out the last few Kilometres to my home town and it was hard to have to cycle another 20 Kilometres when I only lived 2 Kilometres away. My family had come out to cheer us on and this, combined with the knowledge that the next (scheduled!) stop was when I could get off and hand my transponder in at the finish line, gave me new energy.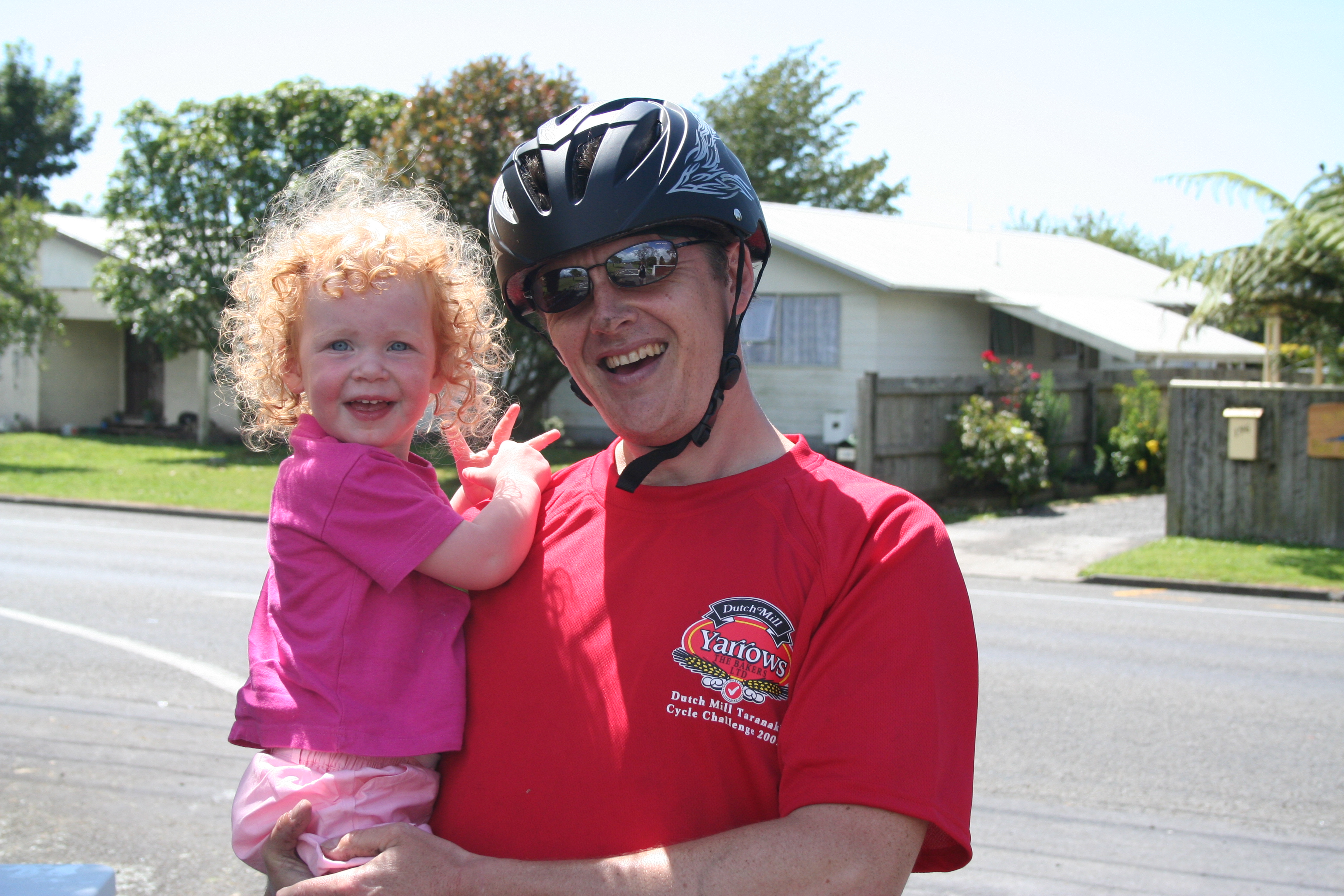 A quick cuddle from a supporter before the last stretch!

We fairly sprinted the last section and I knew the road well - I knew that there were only two hills and lots of downhill sections between me and my goal. My bum began to ache again as Donna's bandages had gradually flattened but it didn't matter…I shouted encouragement to myself into the headwind as the bike coasted down the big hills and I sprinted up Burgess Hill, then up the hill into New Plymouth - nothing would stop me now. If the bike had broken apart into 100 pieces I would have picked them up and walked across that line - but that wasn't necessary. The finish straight was in sight and I could see the timing clock - had I broken the 8 hour barrier? Closer and closer I rode, around the corner, remembering to pose for action shot across the line that I would inevitably buy later on at some ridiculously inflated price.

8 hours 2 minutes was on the clock.

Bugger, as the Kiwis say.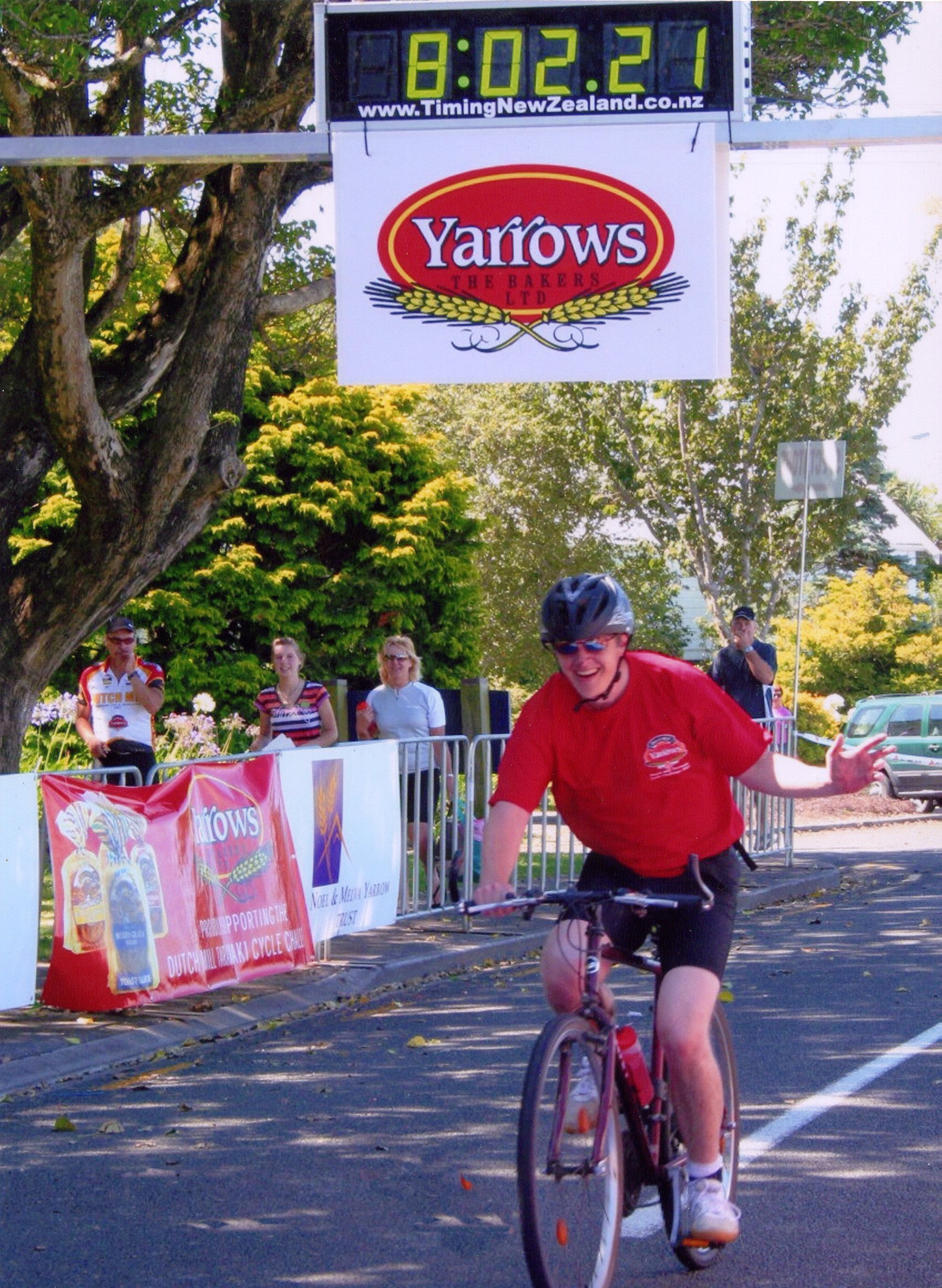 Chris had beaten me to the line and he had discovered where we were entitled to free chicken curry (protein replacement for tired muscles - and absolutely delicious!) and a free beer. There was also massage on offer for $1 a minute although the lady didn't look too impressed when I said my most painful parts were my inner thighs! She settled for my back and hamstrings and I have to say that the injury that I had caused myself earlier in the morning was in need of some attention. Good grief that seemed a long time ago now. I waited for my lift home…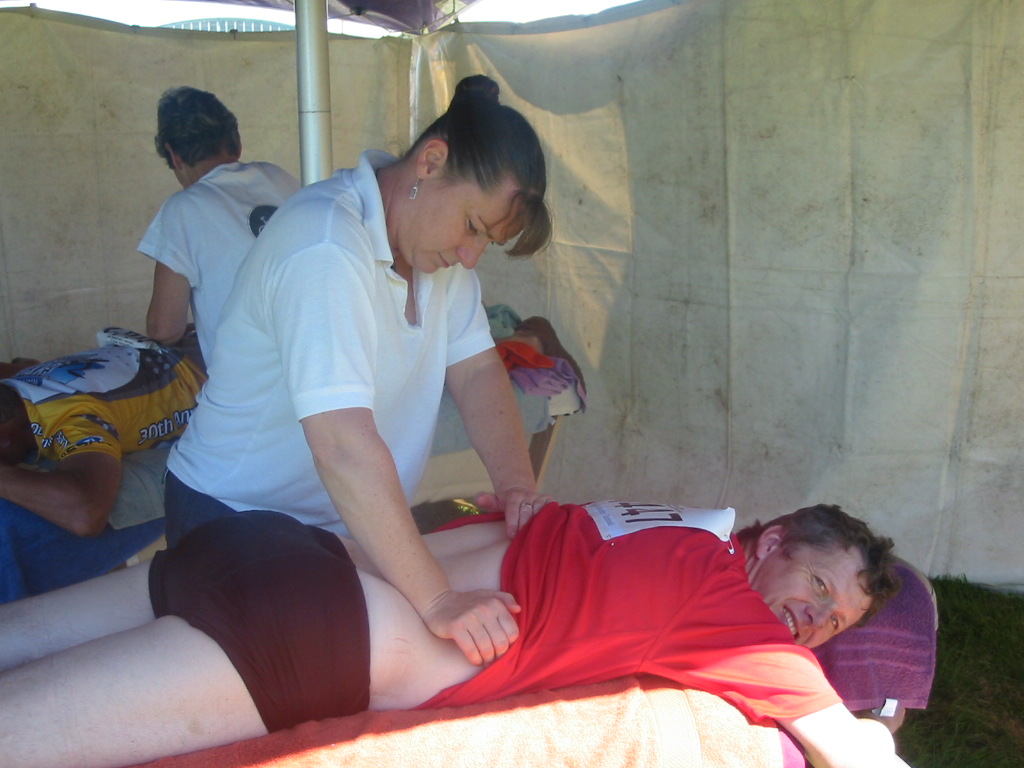 I'm not smiling - that's pain…

The sun was out, the bikes were in the car, we were being driven away and I was still whingeing about energy gels and not breaking the 8 hour barrier when we saw Unicycle Man within sight of the finishing line. We tooted the horn and shouted encouragement from the window…turns out he did a time of around 10.5 hours. Good on you mate - you deserve it.

Later that evening I felt that the muscles around my ischiopubic rami (often called the 'sit' bones because they're the ones you sit on) felt twice as big as they normally did. I also noticed that I had a distinct and total lack of sensation (which would last 24 hours) in a place that every man would find quite worrying. Several hours of sitting on your nether regions is obviously not good for you.

What was particularly annoying was the fact that the only really painful part of my body was the accidental back injury.

Soon the website had been updated with the official timings for every entrant. Chris had suggested that my time of 8:02 might have been incorrect as we didn't actually cross the start/finish line until a while after the gun had gone off - so my actual cycle time could have broken 8 hours. I looked for my number and typed it in…

SEVEN HOURS 42 MINUTES!! Seven hours 42 minutes. Seven hours 42 minutes!

I couldn't believe it - the official time said I HAD broken the 8 hour barrier - and handsomely. I was absolutely chuffed to bits - what a day!

I learned a lot on the 27th January 2007. I learned how important nutrition is in exercise; I learned how my bike gears worked; I learned that no matter how tired and deflated you feel, a bloke on a unicycle can put things in perspective.

Clearly it is not a good idea to jump on a bike one day and enter a 157 Km cycle race, but I'm glad I did because if you don't push yourself to the limit, you'll never know what your limit is - or how to go beyond it.

Chris does his first Ironman in Taupo in 2 months. Go Chris - see you at the finish line.
(Want to know how he did? Here's his website...)


Statistics
Time
Average Speed
Distance Travelled
To Okato
1 hour 15 minutes
21.4 Kmh
13.3 MPH
27.13 Km
16.86 miles
Fixing Bike
7 minutes 53 seconds
To Opunake
1 hour 32 minutes
22.3 Kmh
13.86 MPH
34.58 Km
21.49 miles
Getting dressings for seat
4 minutes 35 seconds
Stop
11 minutes 13 seconds
To Te Kiri
33 minutes 59 seconds
20.6 Kmh
12.8 MPH
11.72 Km
7.28 miles
Stop
3 minutes
To Kaponga
37 minutes
23.9 Kmh
14.85 MPH
14.86 Km
9.23 miles
Chris waiting for me
6 minutes
Stop
11 minutes 53 seconds
To Eltham
31 minutes 16 seconds
24.7 Kmh
15.35 MPH
12.94 Km
8.04 miles
Stop
5 minutes 43 seconds
To Stratford
27 minutes 30 seconds
23.50 Kmh
14.6 MPH
10.85 Km
6.74 miles
Stop
10 minutes 11 seconds
To just before Inglewood
49 minutes
25.2 Kmh
15.66 MPH
20.76 Km
12.9 miles
Chris waiting for me (again)
1 minute 46 seconds
To Inglewood
6 minutes 37 seconds
21.7 Kmh
13.48 MPH
2.4 Km
1.5 miles
Stop
10 minutes 30 seconds
To New Plymouth (Chris)
31 minutes 57 seconds
30.1 Kmh
18.7 MPH
16.05 Km
9.97 miles
To New Plymouth (Me)
43 minutes
22.4 Kmh
13.92 MPH
16.05 Km
9.97 miles
From this you can see that we were stationary for 72 minutes 44 seconds.
Chris's average was 23.71 Kmh (14.73 MPH) (but was handicapped by me!)
My average was 22.89 Kmh (14.22 MPH)
The total distance was 157 Km/97.56 miles (but if you look above Chris's GPS lost 5.71 Km/3.55 miles because he forgot to turn it on once!)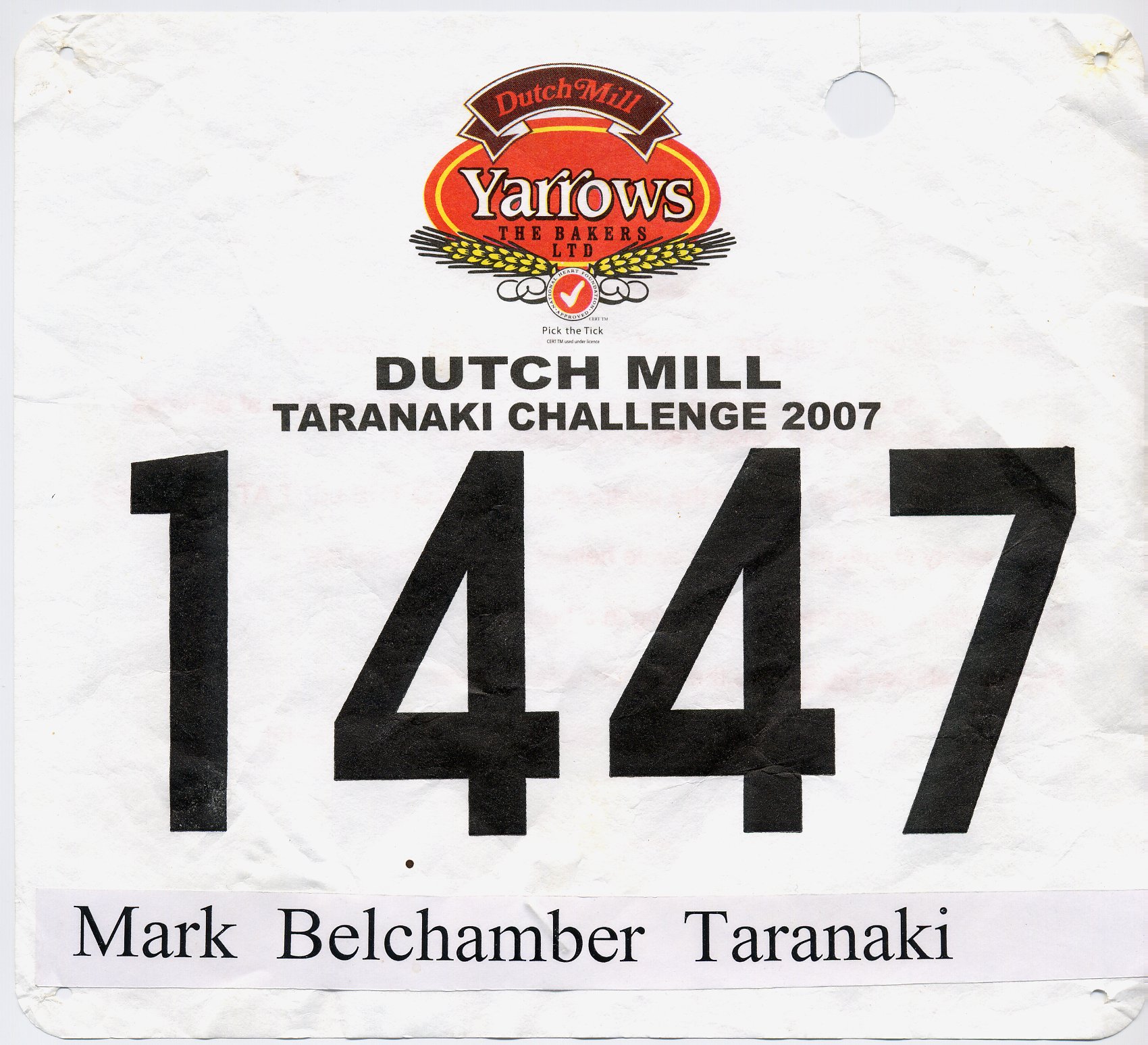 Back to 'Greetings' | Back to the London Marathon